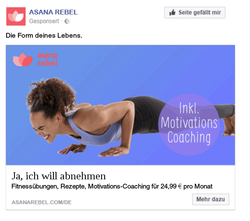 Real-Time Image Composition
Real-time image compositing is now possible with Discrete Choice Experiments.
The Facebook ad above is being generated 'on the fly' using the image composition module and driven by an experiment design.
This example is a pixel-perfect emulation of a Facebook ad and typical of the highly realistic experiment layouts can be created by non-technical users of the software. Experiment attributes can now be precisely positioned visual elements such as brand, backgrounds or foreground images.
These attributes can be combined together seamlessly with traditional text labels or rich HTML and freely positioned in layers allowing a real-time visual composition of experiment treatment.
A working version of the above experiment can be viewed on the demos page. Full software features are below and a free trial is available.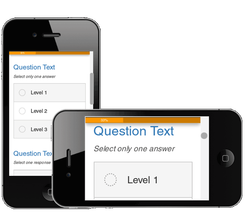 Mobile Ready Experiments
With a majority of people accessing the internet on mobile devices, it is now critical that researchers have an answer for how to deliver web surveys and discrete choice experiments to all screens.
With version 3.1 all surveys (and choice experiments) are produced in a mobile-ready responsive format. This means that the screen will automatically resize for maximum visibility according to the device type and orientation.
​Creators of surveys and experiments can preview how a survey experiment will look on a tablet, mobile phone and desktop. They can decide whether to adjust the layout, allow access only in landscape mode or exclude small devices altogether.