All Major Ngene™ Features
Orthogonal designs
Efficient designs based on local or Bayesian priors
Full factorial & random fractional factorial designs
Avoidance of dominant alternatives
User-specified profile constraints
Main and interaction effects, linear and nonlinear
.. with SurveyEngine usability
Automatic Ngene™ script creation from your experiment
Iterate and document versions of your working designs
Output of D-error and A-error criteria
One-click import into SurveyEngine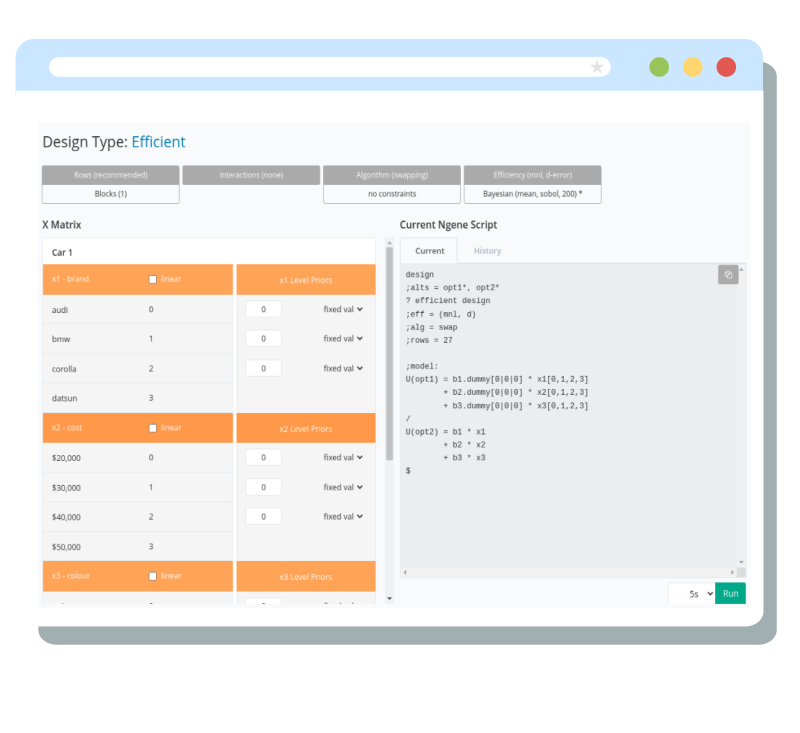 Frequently Asked Questions
Do I need to buy an Ngene™ Desktop license?
No you don't. Once you sign up to a SurveyEngine subscription you can start building Ngene™ designs from within your browser while you are creating your experiment.
Does Ngene™ within SurveyEngine do all the things Ngene™ desktop does?
Almost. All the Ngene design types, specification of priors, constraints and interactions are included. What it doesn't do are designs that take hours or days to run as well as some advanced specifications such as candidate design import. You can always use the desktop version of Ngene™ at http://www.choice-metrics.com/ and import your designs directly into SurveyEngine.
I already have Ngene™, can I use it instead and just import my designs?
Yes of course, this type of use is supported by all subscription plans. You can also import any design matrix you've generated offline, or create a survey from scratch by importing an Ngene design; all pages, scenarios and experiment structure will be automatically created.
What is Ngene and what is an experimental design?
Experimental designs are 'plans' on how to run experiments within a survey: what levels of attributes to show and when. Ngene™ is widely used, cited and is regarded as the best tool to generate experimental designs for Academic and Commercial Stated Choice Experiments. For more information visit www.choice-metrics.com.
Do I even need to use Experiment Designs, what's wrong with randomised treatments?
You don't, but we hope you have deep pockets and a taste for gambling. Without a directed, fit-for-purpose design one has no control over learning effects and dominance. An appropriate design controls for these and gives you statistical confidence that you can capture the necessary variation for valid models. For small or limited samples an experiment design is critical to success.
What does it cost?
Current pricing for SurveyEngine monthly subscription with and without Ngene can be found here. For Ngene desktop licensing visit www.choice-metrics.com/download.html#licence.
I'm new to Experiment Designs, How do I get help?
ChoiceMetrics runs an active forum and courses through the year. More information can be found here www.choice-metrics.com/support.html#forum
An excellent book my Michiel Bliemer and John Rose is available as pre-print and will be published in the Handbook of Choice Modelling this year: https://bit.ly/3OKjCVS
Read the publications by Deborah Street and Leonie Burgess, pioneers in the field. For example "The Construction of Optimal Stated Choice Experiments" (onlinelibrary.wiley.com/doi/book/10.1002/9780470148563)

Or just contact SurveyEngine at support@surveyengine.com, we may be able to help.
About Ngene™ and SurveyEngine
Ngene™ is developed and maintained by ChoiceMetrics in Sydney who are: John Rose, Michiel Bliemer, Andrew Collins and David Hensher. The Ngene™ syntax was borne out of the NLOGIT software by William Greene and David Hensher.
SurveyEngine has collaborated with ChoiceMetrics, running courses and projects together. In 2022 it was decided to embark on a technical integration with Ngene™ and bring the benefits of truly world-class experiment design software into the SurveyEngine Experiment and Data collection platform.
A first demonstration of the power of this integration was made in Reykjavik to the International Choice Modelling Conference (ICMC) early 2022 with the integration released commercially in December 2022.
For more information on Ngene™ visit the ChoiceMetrics website choice-metrics.com.
Talk to one of our Experts
We're always here to help you with your research projects.